For several years, the Trans-European Division (TED) and the Inter-European Division (EUD) have sought to enhance their impact through collaboration and support. Initially, this was simply combining their media and communication network by creating GAiN Europe, a joint organization stretching across the continent and into Euro-Asia.
Since 2018, however, they have worked together on "This Is My Mission," a video clip campaign involving 15 countries; a cross-media initiative spanning 13 countries focused on what it means to be a father in today's society; and, in early 2020, they initiated a social media video clips campaign called "Dear Coronavirus," offering hope and encouragement.
"We wanted to find and be a model for cooperation and collaboration within the church structure," explains Klaus Popa, CEO of Hope Media Europe, located in Germany. "Our primary goal is to create quality content to share faith in a relevant way to a variety of audiences."
They have accomplished exactly that. In addition to Popa, the core of the group is comprised of Victor Hulbert, communication director for the TED; Norel Iacob, editor-in-chief for Signs of the Times in Romania; Adrian Duré, creative producer and filmmaker for Hope Media Europe and coordinator for network projects; and Corrado Cozzi, communication director for the EUD. Together, they and their teams have created a solid foundation on which effective ministry is built.
GAiN Europe's 2020 project, on the topic of uncertainty, is the biggest yet, growing to include 11 divisions.
"It's developed into something much bigger than we expected," Hulbert says. "It's really quite astonishing. In our divisions, a lot of unions are very small, but coming together in GAiN Europe, these small units can collaborate with larger units, and together we produce something much bigger than we could ever do on our own."
It's not just the quality and scope of the joint projects which benefit; it is also the speed in which tasks can be completed when shared across joint resources.
"Less than a week after we came up with the coronavirus campaign, we had a video completed," Cozzi points out. "When you are working within a network model, things can happen quickly."
While it may seem like this collaboration model simply "happened," the truth is there are crucial elements to making the partnership work. One is what Duré calls "team spirit."
"Europe is quite diverse, with many cultures, backgrounds, religions, languages, and work styles," he says. "As professionals, we often focus on whether or not what we're doing is good, but really we find the results are best when we focus on working together."
This partnership became even more valuable as the COVID-19 situation unfolded. In the midst of discussions about how to build a global crisis outreach program, an old idea came to the center of their focus: creating a website as relevant and engaging as the one created by Signs of the Times Romania. Though the ST Romania team had dreamed about it for many years, the project was put on hold, waiting for the best moment to start. The coronavirus brought it all back, and the team realized the time was right.
Since ST Romania launched their website in 2010, they have published over 18,000 articles on a variety of subjects. Though popular opinion says people don't read much anymore, ST Romania has found that to be inaccurate; people will read in-depth analyses on topics relevant to their lives. ST Romania has identified those topics and spoken to them.
"Even if some of our articles are not overtly spiritual, they are written from a Christian perspective," Iacob explains. "We write about health, family, education, society, the environment, life. Offering our readers a well-researched, balanced, biblical perspective on all these areas of our lives is an important part of our mission."
Iacob says readers quickly realize it's a Christian website, and analytics show they regularly browse the spiritual articles. In fact, the most popular category on ST Romania's website is religion.
Since the COVID-19 outbreak, the website's primary focus has been on the virus, providing medical insights, practical tips, and hope. The site has published over 60 articles on the coronavirus and has seen over 750,000 readers since the World Health Organization (WHO) declared the virus a pandemic.
One major strength of the ST.network initiative is that it is responding and relevant to society.
"What we write isn't written for the church," Cozzi points out. "It's written for society. And the way we talk with society is important. What ST Romania is doing has created a bridge to make the church more understandable to those who aren't familiar with it. We're using this model of ministry to build a network across the entire continent and, perhaps, the entire world, through which Christ can reach the people."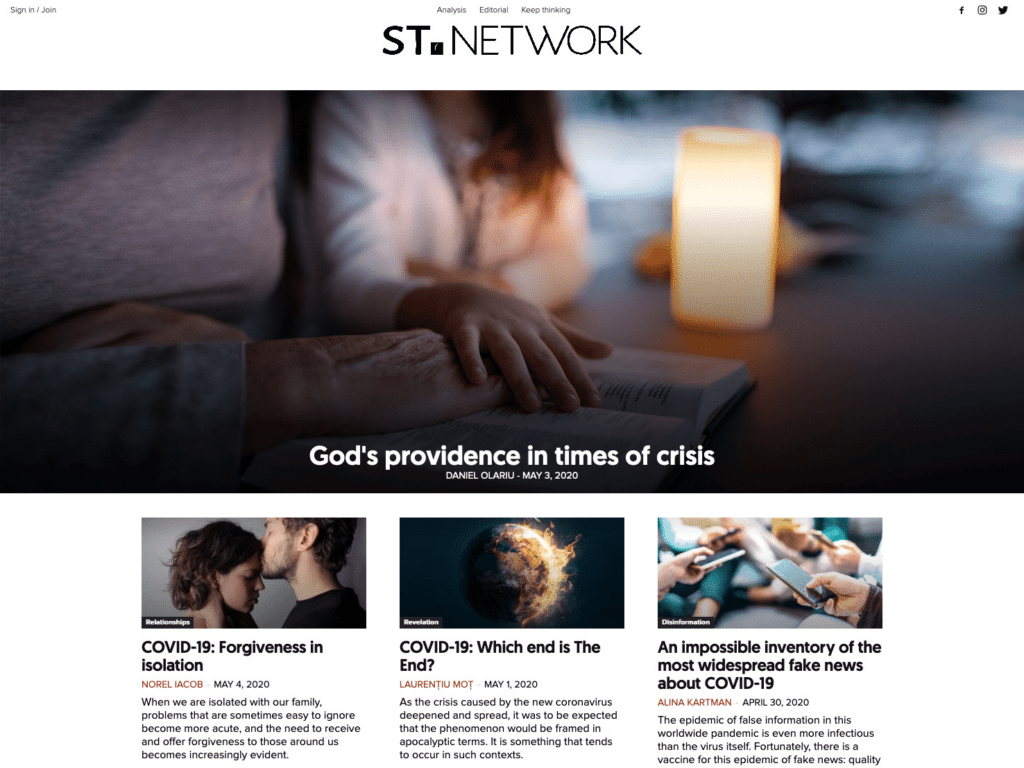 GAiN Europe would love to see the ST.network grow into a global initiative with sub-initiatives in various countries, translated into the local language and building on the Romanian experience.
ST.network was created in the same spirit GAiN Europe has been exemplifying through their own collaborative work.
"One of the challenges of working in a network like this is that you're looking at many people from different backgrounds and visions, all coming together for a common purpose," Hulbert elaborates. "You have to work hard to understand how others think, how they progress through a project, how they communicate. It's a challenge, but we've all grown from the experience."
Cozzi agrees, and adds that respect is important.
"Their ideas may not fit with mine," he says, "but I have to be willing to modify my own ideas to allow others to express themselves and discover the common point where their idea and mine come together."
On his travels to a Christian film festival in Italy last year, Hulbert ended up seated next to one of the judges, a successful filmmaker and television producer from Bangladesh. As they spoke, Hulbert shared that their documentary about fathers, which had been submitted to the festival, had been produced by six different production teams in six countries, and that no one person was at every single location.
"He just about fell off his chair," Hulbert says with a laugh. "He couldn't believe we could achieve what we did as a network."
Duré adds, "It works because we trust each other. There are very talented people within the church around the globe, and we must trust each other's experience, abilities, and resources to get the job done."
This mutual trust brings with it the necessity to forgo absolute control.
"You cannot operate in a hierarchical model when you're dealing with so many people and entities from all around the world," Popa says. "You are dependent upon what others bring to the table, and you must relinquish the idea that whatever you do has to be done any one way–specifically yours. We're in this together, and we see each other as equals."
The group likens their collaborative model to a garden. Rather than each individual focusing on cultivating the most beautiful flower in the garden, together they do everything they can to grow a garden full of flowers, so regardless of the side from which you view it, the garden is full of beauty.
This collaborative model fits perfectly within Christ's model of the many parts of a body each doing their part to ensure the health and success of the whole. No one is forced to participate, and everyone is free to contribute.
"We are a body that wants to serve," Popa adds. "Each of us does our part and we pray that God blesses our work."